Food Pantry Information
Great News! We are returning to Client Choice for families! A representative of your household will be able to come in and shop along with a volunteer for guidance in our food pantry provided by the Community Food Bank. Adult representatives can shop from 3:45 - 4:45 p.m. on the following distribution dates.

2022-2023 Schedule – 14 distributions
August 19th
September 2nd & 23rd
October 21st
November 4th & 18th
December 2nd & 16th
January 20th
February 3rd & 17th
March 10th
April 14th
May 19th
What Makes Us Special
Lawrence works hard to serve students' needs while also concentrating on achievement. Our focus is the overall well being of every student to ensure they find success in and out of the classroom. Our students follow a traditional elementary schedule, and traditional middle school schedule with six periods. This allows both levels to have electives that include music, art, PE, and tech. Our goal is to have each student reach their highest level of academic potential in the classroom, through both direct support using interventions and focused individual work using various platforms.
News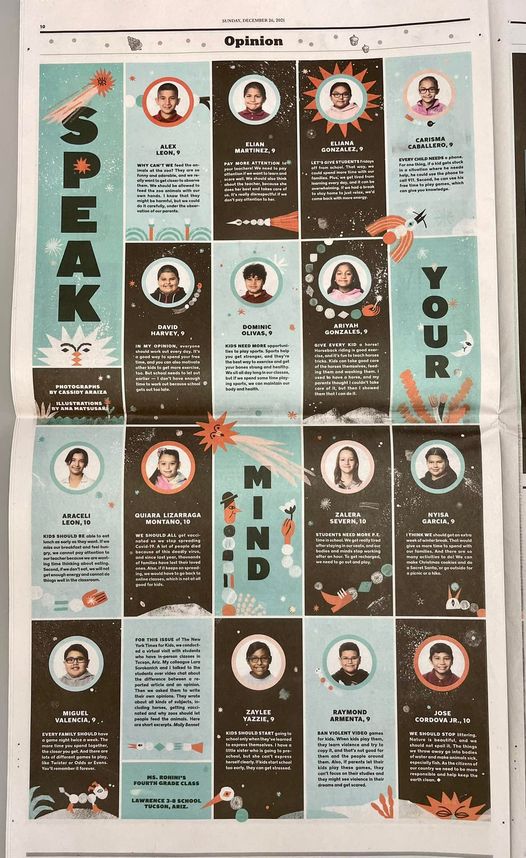 Congratulations to our Lawrence 3-8 Lobos for being highlighted in the New York Times! The students wrote articles about fact or opinion. They completed a virtual workshop with the New York Times, completed revisions, and their final copy was printed in the Sunday edition.
Great job, we are all so proud of you!!
Job Openings to join our Lobo Family

Our Lobo family has job openings for the 2022-2023 school year. Apply at https://jobs.tusd1.org

We are looking for these positions to be filled:
1) Reading Intervention Teacher (must have reading endorsement. Reference Job #3445)
2) Verizon Innovative Coach

We are also in need of a PTO representing our school and community. Contact our office for any questions. Lawrence@tusd1.org
Upcoming Events
Professional Learning Days for Staff (No Classes)
New Teacher and Principal Induction
First Day for Teachers and Planning